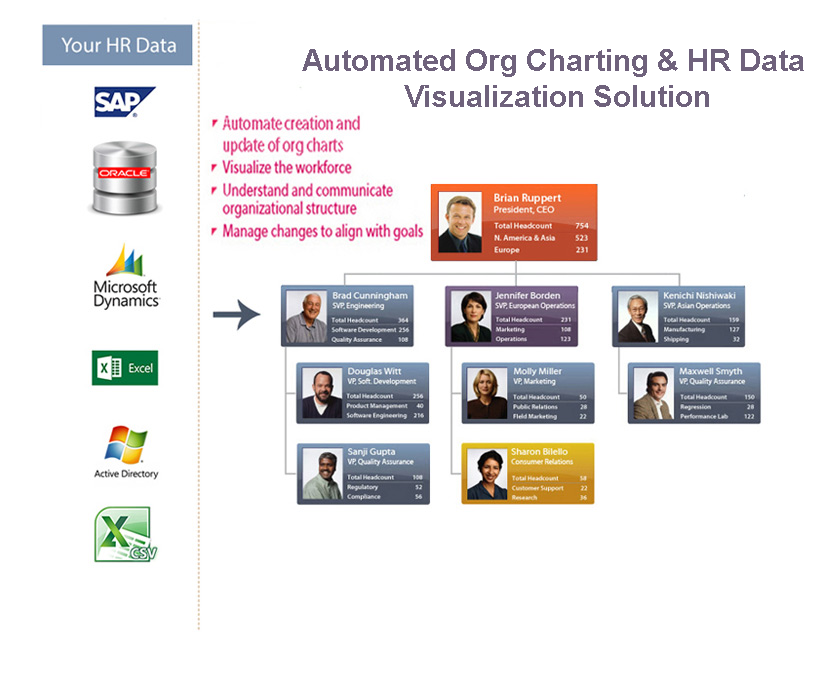 Org chart software – automated and uncomplicated!
org.manager enables anybody to create and publish organizational charts within minutes. With our org charting software there are no limits to your creativity for the design, layout, or content of your org chart. Whether kept simple for HR related tasks or a more complex organogram with key performance figures of your company, org.manager makes it happen.
org.manager features at a glance
Reorganizations and scenario-based modeling
Easily run simulations of structural changes in your existing organizational chart. From restructurings via simple drag & drop to the creation and removal of objects (e.g. departments or individual employees), to editing data fields, reorganizations have never been easier, thus supporting you in making the right business decision.
Interfaces to any HR system
Our organogram software offers standard interfaces to leading HR systems, e.g. SAP HCM, SAP SuccessFactors, Oracle HCM solutions, Workday, which swiftly connect org.manager via plug & play. Information from any other data source can be merged at any time. Aside from popular HR systems, this includes databases such as Oracle®, Microsoft SQL Server® or IBM DB/2® as well as directory services such as LDAP / Active Directory, and last but not least flat files, e.g. Microsoft Excel or CSV.
Flexible display options
Org charts on your PC, tablet or smartphone – org.manager offers several display options which all enable a smooth visualization of your organizational charts.
HR controlling & Big Data visualization
Visualize key figures along the organizational hierarchy. org.manager on-premises empowers you to easily calculate personnel or corporate statistics and to deliver visual reporting through organizational charts.
Custom design
With our org charting software there are no limits to your creativity for the design, layout, or content of your org chart.
Access protection
The access protection add-on allows you to restrict the access to certain areas of your org chart to certain users. For instance, you can deny access to a complete organizational chart or to parts of the structure and lock specific attributes.
Print and export functionalities
Print selected parts or the complete org chart with org.manager. In order to do so, you can define headers, footers, the size, format and the layout. org.manager includes the ability to export org charts into PDF, PNG  or download data in an Excel file. PowerPoint export is only possible with the Microsoft Windows based viewing component of org.manager on-premises.
Search functionality
Numerous search abilities such as fuzzy search or extended search allow for a comfortable navigation through your org chart. Define your search and hit list individually and according to your needs.
Request for a Demo


Try a FREE DEMO today