VB342+
The VB342+ delivers high quality audio and expansive sound in an easy to use all-in-one soundbar.
The VB342+ is an affordable, professional-grade USB Soundbar optimized to deliver exceptional audio visual experience to huddle rooms and small conference rooms. The VB342+ captures the entire room with 120 degree FOV featuring a 180 degree motorized pan and tilt, for a wider perspective than ever. Easily view the whiteboard on the sidewall with the push of a button and save up to 3 preset locations. Aver's SmartSpeaker tracking pinpoints where you are located in the room, cuts through  background noise, and picks up your voice clearly. SmartSpeaker's voice tracking presets eliminates the need to move closer to the microphone. Wide Dynamic Range (WDR) controls light exposure in high-contrast areas to provide
crystal clear images. No need to worry about tricky lighting conditions, now you can hold your meeting anywhere in any lighting with the VB342+. Finally the term "Like looking through glass" can be used. The VB342+ uses high quality sensors and multi-lens glass to produce the sharpest and most accurate color ever.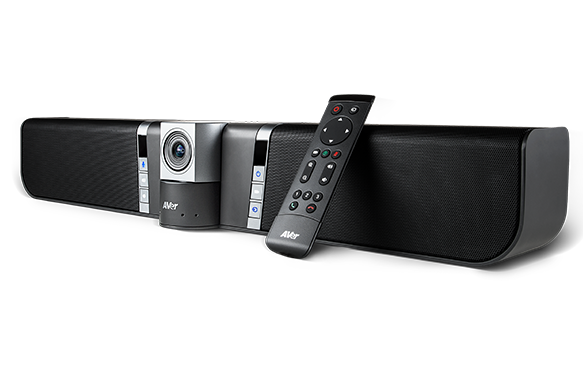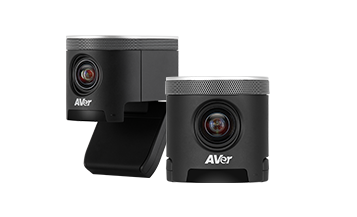 CAM340+
Capture the Huddle Room
with an Ultra-Wide FOV
Huddle Room Conference Camera. Unbox, unfold, and connect to instantly start a next-generation video communication experience from your huddle and small conferencing rooms. Fit Everyone into Your Meeting. Obtain ultra-wide field of view video conferencing in your meeting room with a performance-quality multi-glass lens with deep focus and a staggering 120° FOV. Fit everyone at the table and the entire whiteboard into your meeting with minimal distortion. No more awkward seating arrangements!. Premium Video Quality. Experience your meetings in 4K at 30fps with the versatile CAM340+. Capable of 4X zoom, as if it were a traditional optical camera, the CAM340+ scans the room with no moving parts and no quality lost. *ePTZ and 4X zoom are not available in 4K or 60fps
EVC170
Full HD Endpoint with a Built-In Meeting Server

The EVC170 delivers the best price–performance ratio in video conferencing. Its built-in meeting server offers optimal unified video communication for medium-to-large meeting rooms. Superior Detail from 18X Total Zoom. The EVC170 features superior 18X total zoom, bringing a new level of clarity to video conferencing. Maximize your team's collaboration with the EVC170's simple, easy, and efficient video communication capability. Advancing Video Communication with a Built-In Meeting Server. Equipped with a built-in server, the EVC170 supports NAT Traversal, SIP Registrar, and Meeting ID for full compatibility with SIP, H.323, and WebRTC, providing users diverse and easy-to-use collaboration possibilities.Perfect for Medium-to-Large Meeting Rooms. An 82° field of view allows for 7-12 people or more in the meeting room, and the PTZ camera provides flexible motorized ±130° pan and +90°/-25° tilt movement. The EVC170 also supports upside-down mode to solve space limitation problems. Web Real-Time Communication (WebRTC).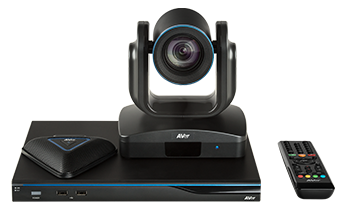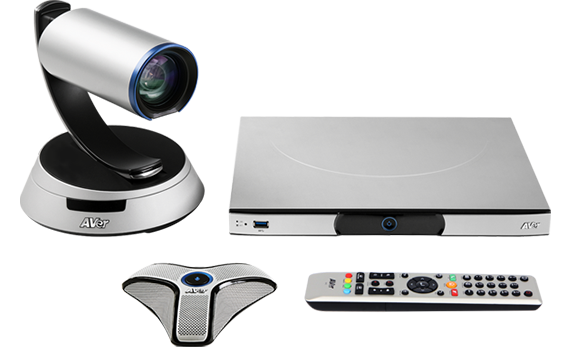 Full HD 6-Site Multipoint Video Conferencing System
As the next generation of AVer's video conferencing system, the SVC500 was endowed with a futuristic design. The most standout feature is the stand with a curved design which supports a powerful 18X total zoom lens. Moreover, WebRTC, H.323, SIP, and Skype for Business support provide endless communication possibilities. The dual-camera/dual-presentation elevates AVer's video conferencing system to the next level; providing users with unparalleled video conferencing experience.
EVC950
10-site Embedded MCU, EZDraw and EZMeetup Collaboration
AVer's EVC950 is the perfect video conferencing solution for large conference rooms and auditoriums. It provides a cost-effective way for businesses to connect up to 10 sites and enjoy full HD video and content sharing, offering an unbeatable return on investment. Users can connect to EVC950 calls from PCs, laptops, tablets and mobile phones via AVer's EZMeetup software. Moreover, by using the EVC950 with AVer's EZDraw collaborative annotation app users can access to an impressive array of interactive tools. The EVC950 is simple to set up, easy to operate and offers great interoperability across all brands. The EVC950 supports conferencing between up to 10 different locations at full HD 1080p resolution. This cost-effective embedded MCU provides smooth video streaming and is ideal for businesses that need high quality communication between multiple locations.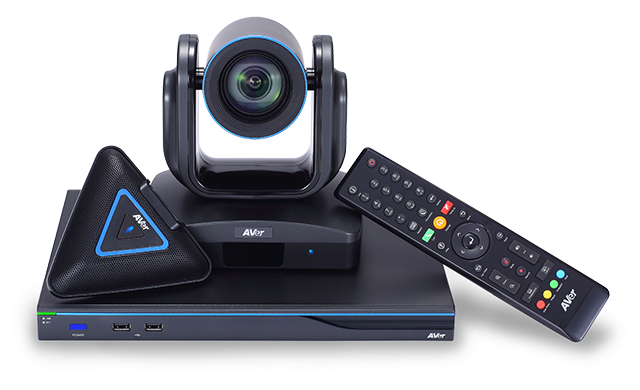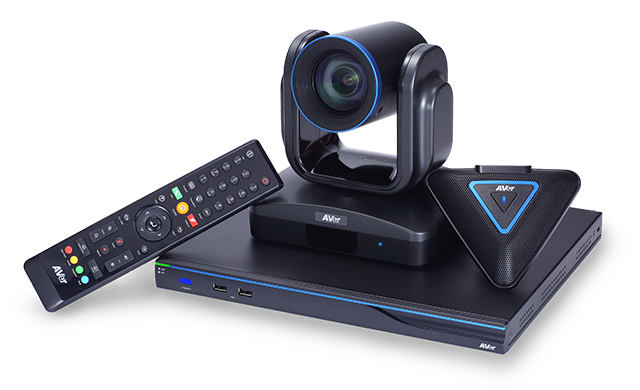 EVC350
4-site Embedded MCU License Upgrade to 6, 8 and 10 Points
Perfect for any budget, the EVC350 is AVer's affordable, 4-site, high performance MCU video conferencing system. This all-in-one video conferencing solution allows organizations to start conferencing immediately, with no installation fees or costly upgrades. Our patented, intelligent microphones can be linked together to form a daisy chain so you can enjoy great audio reception in any size of conference room. All your important meetings can be recorded directly to a USB flash drive, even when you are offline. Moreover, you can use the EVC350 with AVer's EZDraw collaborative annotation app to access to an impressive array of interactive tools. Users can also connect to the EVC350 from PCs, laptops, tablets and smart phones via AVer's EZMeetup software. All these great features make the EVC350 the perfect communication solution.
4K Conference Camera
The CAM540 brings AVer's new SmartFrame auto-framing technology to 4K high definition video conferencing. With a wide field of view, the CAM540 is guaranteed to provide an incredible communication experience in your meeting room.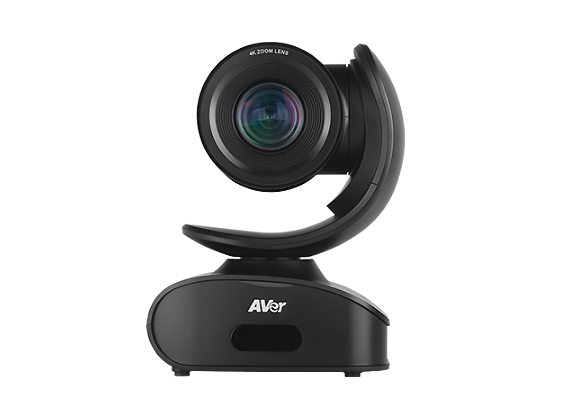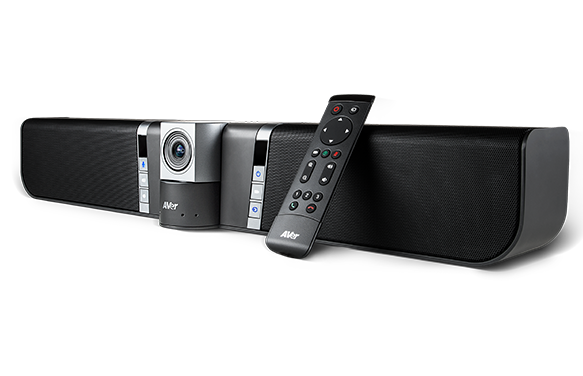 Video Soundbar
The VB342 easily puts all participants in clear focus with its 4K PTZ camera's extraordinary video quality and its professional-grade speakers and microphones. Perfectly suited for huddle rooms.
VC322
Market Leading 4K PTZ USB Video Conferencing Designed for Huddle Rooms
A 4K PTZ USB camera provides vivid lifelike video quality; accompanied by a high quality speakerphone that picks up crystal clear audio in the meeting room with no cable clutter, this is the AVer VC322 and it is the USB camera your meeting room is looking for. With its large FOV, everyone at the table is clearly visible. All you need is to plug in the camera and start a video collaboration with any video conferencing software or cloud service you're familiar with. No more bulky systems; the VC322 is compactly designed to perfectly fit your meeting space.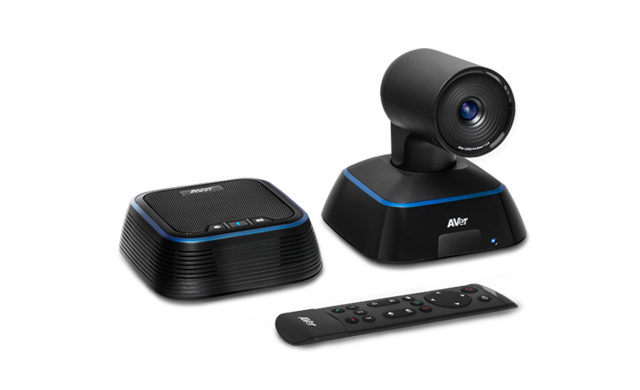 VC520+
Professional Camera for Video Collaboration in Conference Rooms
The AVer VC520+ Conference Camera is an indispensable video collaboration tool for businesses that use web- or cloud-based conferencing. Suitable for meeting rooms of all sizes, from huddle rooms all the way up to large conference rooms, the VC520+ boasts a powerful pan-tilt-zoom camera and an advanced speakerphone, providing delicate, detailed images and vivid sound quality that more than meet the needs of most businesses. Especially well-suited to laptops, the VC520+'s plug-and-play design puts high-quality video communication just a USB connection away.
Request for a Demo


Try a FREE DEMO today