Is your company planning to reorganize its hierarchy structure?
Model the workforce of tomorrow via drag & drop!
Today, organizations have to face changes more frequently and often without much time to prepare. Be it the reorganization of existing employees, positions or org units, or a business extension based on a merger or acquisition – the org.simulator module of Ingentis org.manager helps you plan organizational transformation and model future hierarchies directly in your org chart.
Organizational planning:
Simulate structural changes in your org chart with the org.simulator module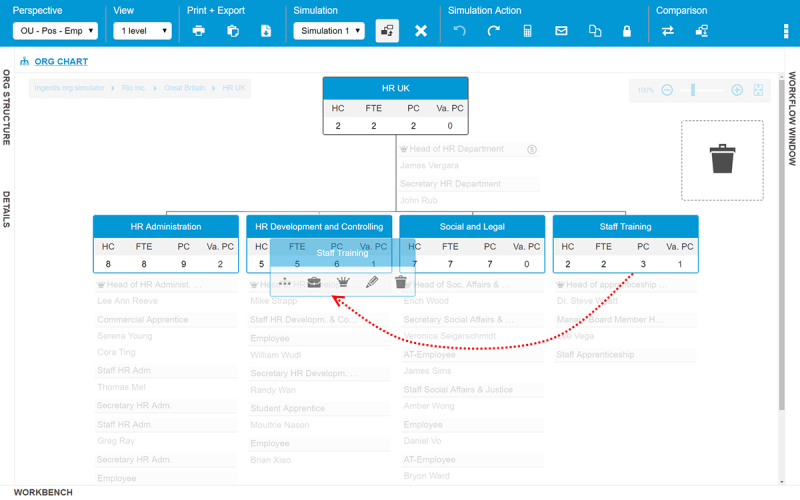 Model multiple plan versions and scenarios of your organization's future structure with the org.simulator module. These org modeling simulations can be performed in a user-friendly manner and include the reorganization of objects via drag & drop as well as their creation and removal. Of course, existing information can be also modified. Simulations can be created directly in the browser – independent of platforms and without installation efforts.
Transfer changes back to SAP
Rest assured that the core data in your HR system is not affected by the simulation using org.manager on-premises. Nonetheless, the theoretical changes to your organization's hierarchy structure can be applied using the results of a comparison data set. Do you want to copy your simulated reorgs with org.manager on-premises into SAP HCM?
Read more about the Winshuttle add-on
All changes made in org.manager [web] for SF can easily be transferred to the HR system SAP SuccessFactors™ in a manual or semi-automated way and can be viewed in a report.
Strategic organizational design – Modeling with adjusting KPIs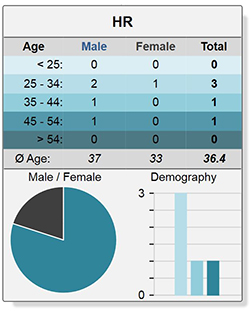 HR related data such as occupation ratios, scope of management, and staff costs are important variables in human resources and management.
When simulating a structural reorg, it is important to keep track of the key performance indicators and how they are affected by structural change. After all, a reorganization's impact on certain figures might be the reason this change will be executed or not. Thanks to the org.simulator, KPI's are updated post-reorganization at the push of a button.
Compare your organizational designs
When preparing for organizational change, the org.simulator module makes life easier. Use it to compare several scenarios of your org structure with one another, e.g. the current state with a newly simulated organizational design. The differences are highlighted graphically and thus can easily be tracked and understood. In order to write back these changes to the HR system, the software generates data sets which list the differences between the various structure designs based on their effective date.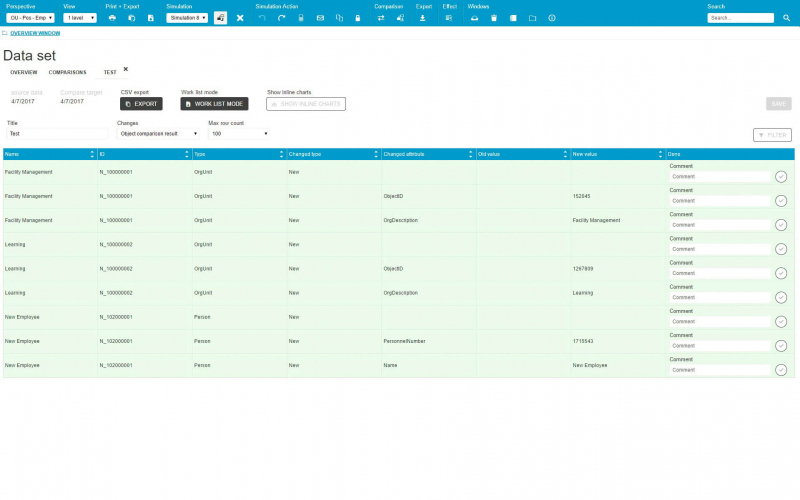 Simulate reorgs with your colleagues
It's possible to provide co-workers with their own access to org.simulator in order for them to retrieve existing simulations or create their own. In addition, scenario plans can be shared with colleagues and executives to work together on the same reorg simulation
Playing out multiple scenarios with the org.simulator by moving around positions or employees facilitates your workforce planning process by allowing you to find the perfect employee for a project at the right time. With the associated KPIs adapting to organizational changes, the allocation of resources can be analyzed and visualized prior to implementation. The org.simulator also supports succession planning.
Add-on for org.manager on-premises: Automated copy of simulated reorgs into SAP HCM


You've performed a simulation in Ingentis org.manager and now you'd like to transfer these changes to your SAP HCM system?
Winshuttle offers the possibility to copy data from Ingentis org.manager to SAP's HR system. All necessary transactions are recorded via the Winshuttle Studio and transferred to an excel sheet template. Finally, this sheet is loaded into SAP HCM together with lists showing the differences between the status quo and the simulation.
Winshuttle software empowers business teams to make an impact through solutions that make it quick and easy to exchange data with SAP using Excel, streamline SAP business processes using forms and workflows, and improve data quality using data stewardship capabilities: https://www.winshuttle.com/