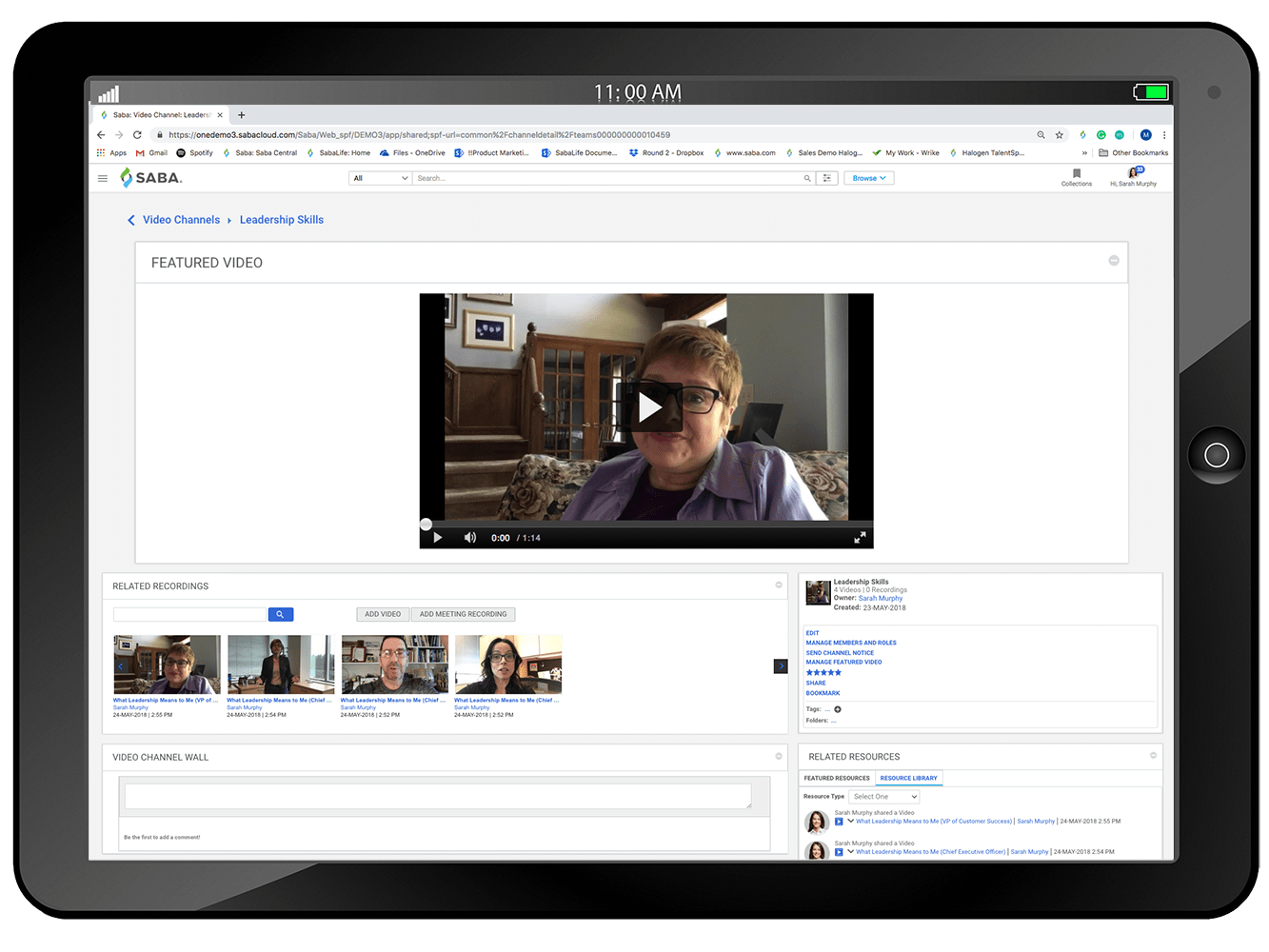 AMP UP THE LEARNING EXPERIENCE WITH SABA VIDEO
It's no secret that video is the preferred medium for today's modern learner. Videos bring information to life, making your content more engaging and enjoyable to consume, while increasing impact and knowledge retention.
Saba offers a high-performing video learning solution that allows you to securely host and stream video content directly in Saba Cloud. Now, you can easily incorporate video content into any of your formal or social learning programs to create a more interactive and engaging experience. By bringing all your learning content together in one unified platform, you can more effectively measure the impact of your learning programs and the success of your broader talent development strategy.
Give your learners the experience they crave
Formal Video Learning

Enhance the experience of formal learning programs. With Saba, you can upload secure, engaging video content directly to a course, class or certification. Your learners can launch and stream courses or classes directly from Saba Cloud or on the Saba mobile app for an uninterrupted, high-performance learning experience.
Social Video Learning

Reduce the burden of content creation by leveraging the knowledge of your internal subject matter experts. With Saba Video, you can empower any employee in your organization to record, create and upload video content into Saba Cloud. Using Saba's social learning capabilities, you and your employees can curate, organize, share and distribute video content to anyone in the organization. Video learning can be accessed in the news feed, activity stream, system canvas, groups, community workspaces, collections and more.
Video Channels

With Saba, you can curate video content into video channels or playlists, for a more immersive video learning experience. Your employees can subscribe to video channels that are relevant to them to easily stay up-to-date with important learning content. They can also engage in conversations on specific topics using the comment wall for a particular video channel.
Reporting & Analytics

With Saba's easy-to-use reporting capabilities, you can measure the impact of your video learning strategy. You can also track and assess video completion metrics and engagement metrics, such as video views, comments, shares, top video contributors and more.
Mobile

Saba Video is fully mobile, so your learners can access video learning on-the-go. Your learners can also contribute video content and share it with other employees directly from their mobile device
Captions

Increase the scalability and accessibility of your video content. With Saba, you can subtitles in multiple languages to any video's within Saba.
360-Degree Video

Train employees more effectively with a realistic and immersive viewing experience. Saba supports 360 degree or virtual reality video learning, so you can offer your employees the same benefits attained during-in person training, with the scalability of virtual learning.