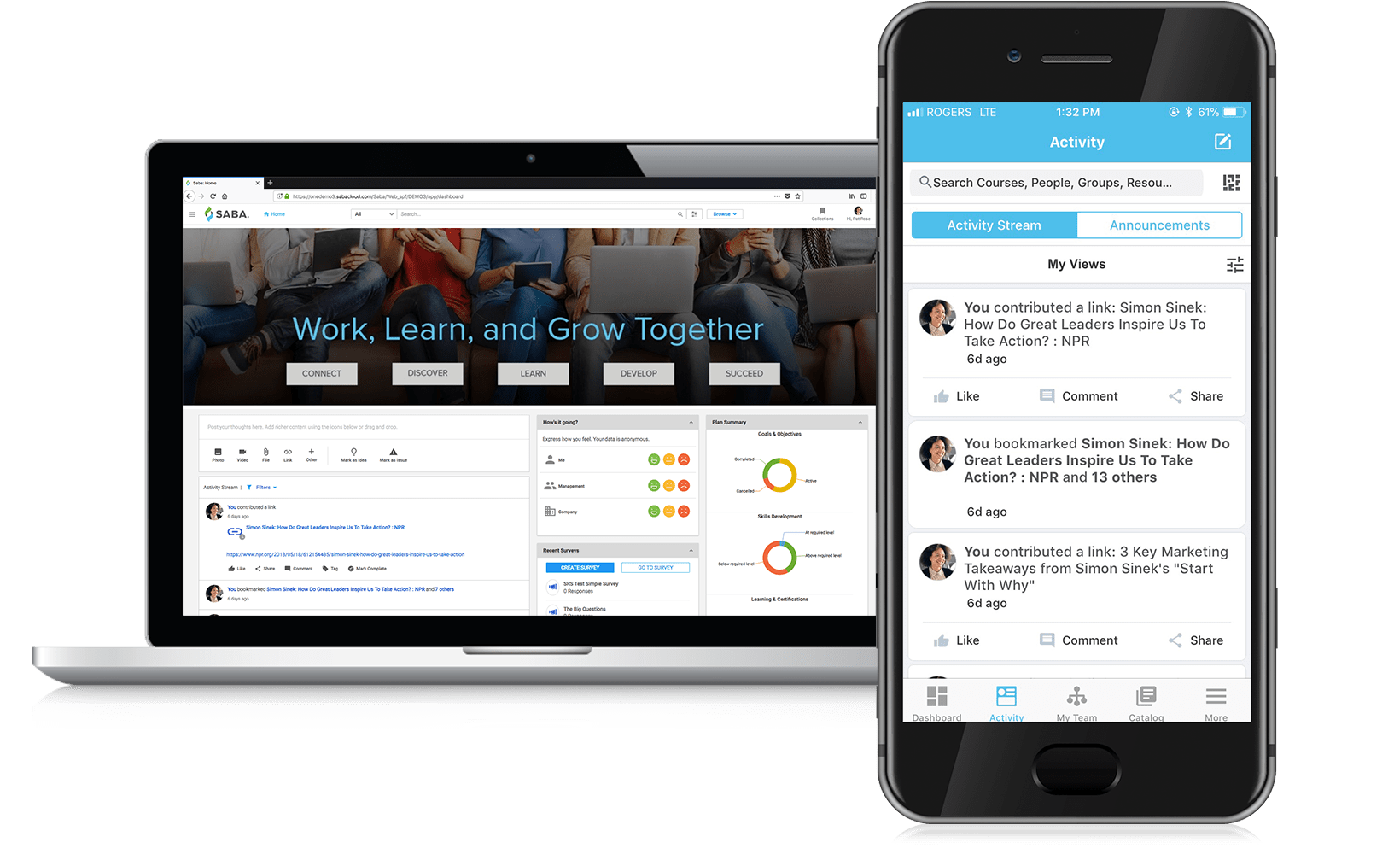 OFFER COLLABORATIVE, SOCIAL LEARNING AND DEVELOPMENT
Not all learning happens inside a classroom or through consuming content. People learn by asking and answering questions, sharing experiences, and referencing resources as they need them. Every time you search the web for an answer or ask a colleague a question, you're engaging in collaborative or social learning.
Saba recognizes the power of social learning and developed the only talent solution with built-in collaborative capabilities, enabling your people to harness the expertise of your internal subject matter experts. You can also enrich your existing formal learning with these features by enabling your learners to have discussions and ask questions about the learning that they are taking in the moment.
Give your learners a social and collaborative experience
Communities
Communities provide a place to share and discuss materials in just about any form such as documents, links, and videos. Whether in conjunction with an existing course or just a shared practice or interest, these groups provide your learners with one place to find resources, ask questions, and learn from each other.
Workspaces
Active collaborative learning communities will generate a lot of good content, but important information may become hard to find, as new items take the top spot on the activity stream. To ensure everyone has quick access to what they need, group owners can use workspaces to curate and promote content. Workspaces can also be used as internal websites, or intranets, where you can publish and organize important company resources.
Groups
Many organizations are moving away from hierarchical structures towards being more team-oriented and collaborative. Teams are not just based on functional area, but also created to work on cross-functional projects. You can create public or private groups in Saba based on any commonality, and enable group members to share resources and files, discuss ideas or issues, and participate in social learning and development activities.
Collections
Collections enables any employee the ability to collect, organize, curate, and share a grouping of content with their teams and peers. This content can consist of any self-discovered learning from within or outside of Saba's system. Building on the bookmarklet capabilities, users can collect the content in a visual framework and easily share it with the click of a button. This capability is useful for peer training or for a manager to pull together relevant content for a team.
Meetings
Connect disparate communities of coworkers with Saba's online meeting, virtual classroom and webinar functionality. Saba's meeting solution provides real-time interaction with internet voice and video as well as screen sharing and could be used for anything from a one-on-one meeting to the company's town hall. Any meeting can also be turned into a recording, so those who missed it can watch afterwards at their convenience.
Video
With Saba, you can incorporate video content anywhere within Saba's social learning experience, including in the newsfeed, workspaces, collections, groups, video channels and more. You can add both secure, internal videos and third-party videos (from YouTube or TED Talks, for example) to Saba's social learning experience. Your employees can also engage with any video content by sharing, liking or adding comments.
Social Learning Analytics & Reporting
Saba tracks all activity, including contributions, comments, as well as likes and ratings. Built-in reports let community managers track learner engagement, which can be critical in some communities like onboarding. You can also leverage Saba's reporting capabilities to see how group participation is impacting learning and performance. In addition, Saba's Dynamic Network Analysis (DNA) feature shows who the key contributors are and how information flows through your company.