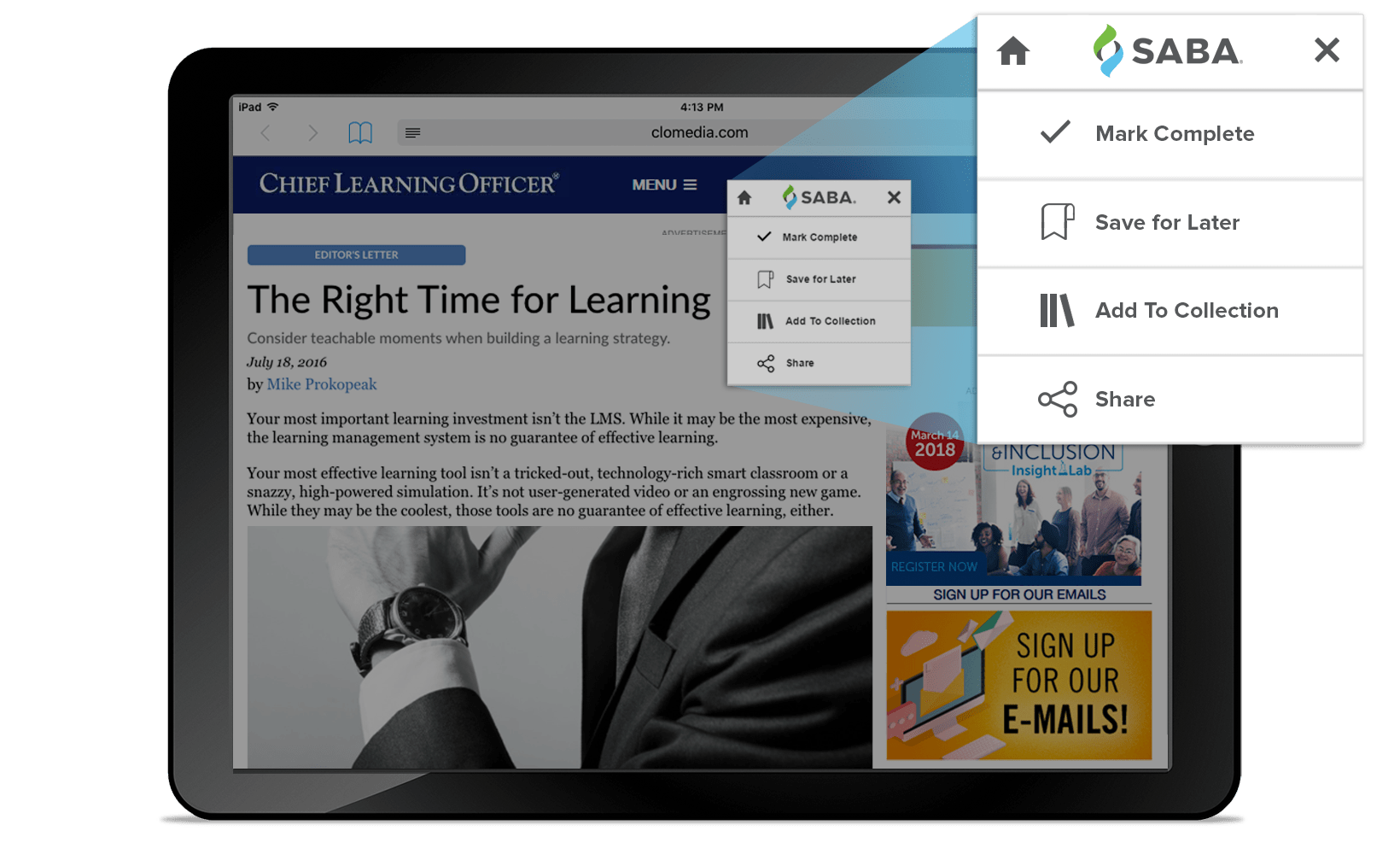 CREATE NEW DEVELOPMENT OPPORTUNITIES WITH INFORMAL LEARNING
People don't limit their learning to their learning management system. In today's world of modern learning, people are learning in more ways and places than they ever have before. They naturally supplement formal education, training, and on the job training with web-based content that's meaningful and relevant to them – like blogs, articles, videos, webinars, and more…
With Saba, your employees can discover informal learning resources found on the web, add it to their learning plan, and collaborate and share it with the rest of the organization. All informal and formal learning is kept in one place, so you can track and analyze the effectiveness of all the learning that is happening across your organization.
Let your people learn without boundaries
Browser-based Bookmarklet

The bookmarklet, which can be accessed from the toolbar in your internet browser, makes it easy for your employees to learn from useful resources on the web. With a quick click, they can add self-discovered learning, such as articles, blogs, external webinars, and more, to their own development plans and share it with others in the organization. Employees get credit for their self-sourced education and you can see where people are finding useful information
Learning Record Store (LRS)

When an employee saves or shares self-discovered learning it gets added to the Learning Record Store. The LRS allows all informal and formal learning activity to be saved in one place, whether it's activity from within Saba (e.g. downloading a file) to outside of Saba (e.g. sharing a blog link), making it easier for you to track and report on all learning happening across the organization. The LRS supports everything from Tin Can (xAPI) content to assigned or self-discovered courses, classes, articles, videos, blogs, and more.
Collections

Collections enables any employee the ability to collect, organize, curate, and share a grouping of content with their teams and peers. This content can consist of any self-discovered learning from within or outside of Saba's system. Building on the bookmarklet capabilities, users can collect the content in a visual framework and easily share it with the click of a button. This capability is useful for peer training or for a manager to pull together relevant content for a team.
Analytics and Reporting

With all learning activities—whether employer-directed or self-directed—stored in the LRS, business leaders have access to a wealth of data. With Saba's analytics and reporting capabilities, you can make sense of all this data to identify trends and prove the business impact of employee learning and development. Saba provides dozens of out-of-the-box reports and dashboards, which help you stay on top of key learning metrics, and the drag-and-drop interface makes it easy to create custom reports. You can even drill down on specific metrics to compare learning effectiveness across departments and geographies.