The future of learning is bright, dynamic and personalized! From powerful and insightful keynotes, workshops and panels to recognizing Saba customers and other award-winning industry leaders for creating results-driven learning programs, we learned so much at the Chief Learning Officer Symposium in Chicago this past week.
The Saba crew has been soaking up so many offsite learning opportunities lately, such as our recent trip to the semi-annual HR Technology Conference. And at the CLO Symposium, we had the privilege of not only absorbing new knowledge, but also sharing what we've learned about how to design, build and inspire the future of learning – this year's theme at CLO. Attending the CLO Symposium is like drinking from the fire hose of learning strategy and excellence, so we've curated some of the major highlights from this year's conference.
Learning strategies meet the learning experience
According to Brandon Hall Group's Learning Strategy Survey, 64 percent of organizations expect their individual contributors to need to connect with learning resources at least weekly, to effectively perform their job. All organizations in all industries are looking for ways to grapple with the inevitable changes of digital transformation, which is why it's critical to make talent development a priority in the age of digital disruption.
Learning has transformed, which means organizations and their leaders need to transform along with it. Learning is no longer solely traditional compliance or mandatory training – it's about leading teams that work differently and learn differently.
We heard this theme throughout the conference, kicked off with a keynote by Priya Parker, master facilitator and author of The Art of Gathering: How We Meet and Why It Matters. Her expert talk, The Art of Gathering, focused on the theme of her acclaimed book of the same name and walked through the steps of how to create a meaningful conversation in a meeting or gathering. It's no wonder her TEDx talk has been viewed almost two million times! Beginning with the outcome in mind was the perfect way to kick off our learning at CLO.
The future of learning means connecting to performance, results and experience
Now, it should be obvious that to begin with the end in mind means you need clarity on your desired outcomes. How you, your teams, and your organization define success is certainly personal based on your priorities, but that also requires strong alignment in how your learning strategies and activities drive you towards your goals.
We heard this in so many of the personal stories and strategies shared in the workshops, discussions and panels during the conference. Here's just a taste of what Saba and other presenters shared throughout the conference.
The learning and performance link: Making the connection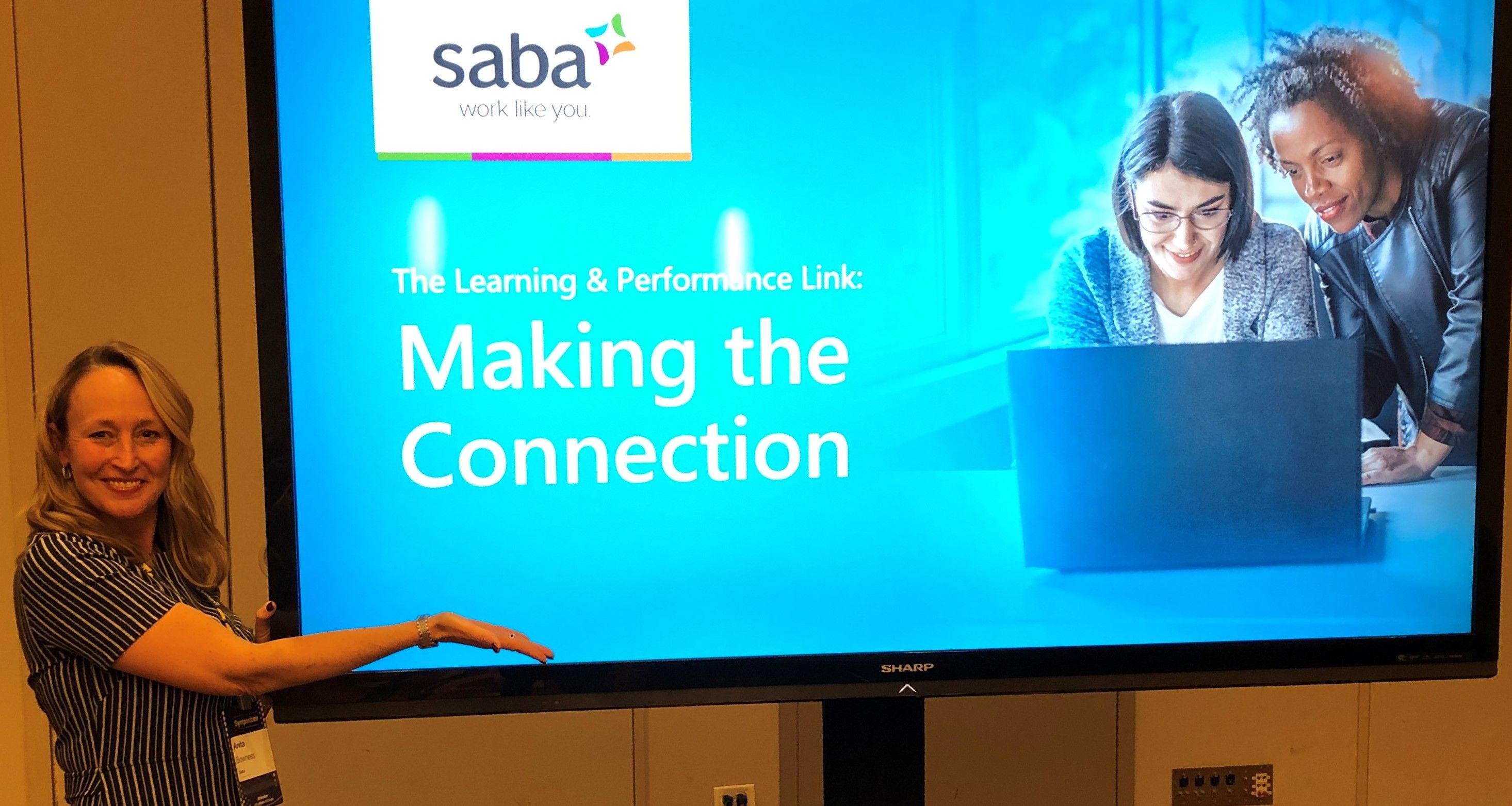 On Monday, Molly Nagler, the CLO of PepsiCo, shared the challenges that many of us face – we have an ever-growing library of learning "content" and assets yet we have learners and business stakeholders telling us that the content we provide isn't relevant to their jobs, their interests or their challenges.
At the same time, we know we could be doing more to support the business. Molly suggested that we need to frame our conversations and programs – not in terms of "benefits" but rather in terms of "impacts and outcomes."
And this really is at the core of why we need to make the connection between learning and performance, as I shared in my conference partner workshop, The Learning and Performance Link: Making the Connection. When we can create, curate and connect the learning context and experiences to the needs of our workforce and what will unlock high performance, we can give them an experience that is personalized and relevant to the jobs they are in today and where they want to go next.
And when we can track how learning is moving the needle on individual and organizational performance metrics, we can demonstrate our impact on the business!
Personalized learning improves the link between learning and individual performance, according to 95 percent of respondents in Brandon Hall Group's 2018 Personalized Learning Survey. Ninety-one percent of respondents also said that personalized learning has improved the link between learning and organizational performance. Personalization of learning is a key and complementary piece of the ongoing performance management that should be happening within organizations that want to be able to become or remain competitive.
Remember, to be valuable, personalized learning needs to be engaging, impactful, accessible, relevant and scalable.
"The problem with formal training is that it is largely one-dimensional – the L&D function thinks it knows what employees need to know. Break that assumption; let employees and managers determine what they need to know to do their jobs more effectively. Liberating employees means giving them choices and opportunities to learn." – David Wilson, Fosway Group (Learn more here!)
There are five key steps to make the shift to self-directed, performance-focused learning at your organization:
Understand the business strategy
Embrace the new mindset on what needs to be measured
Align learning programs to what matters to the business
Measure outcomes that move the needle on business impact
Adjust – if you're not getting the results you want, make a change!
Providing learners with lots of high-quality and engaging content is one thing – it's another to ensure that the content is relevant, personalized and results-focused. And for MUFG Union Bank, the company's journey into personalizing learning came directly as a result of these challenges!
Making the move from self-service searching to customized content curation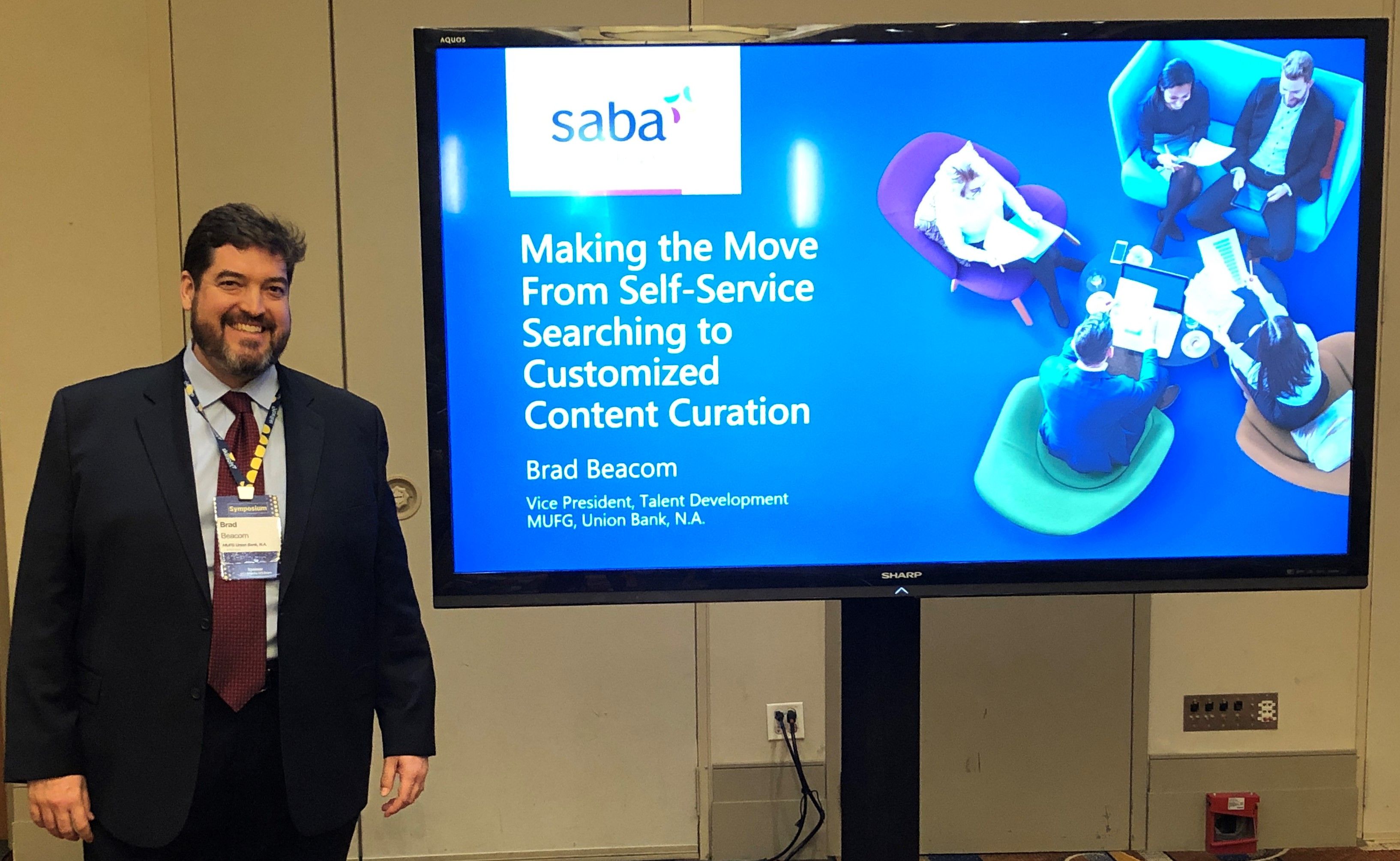 In his workshop, Making the Move From Self-Service Searching to Customized Content Curation, Brad Beacom, Vice President of Talent Development and Senior Systems Consultant at MUFG, shared how his company connects, imports, manages and promotes flexible libraries of cutting-edge learning content from anywhere.
Executive leaders at MUFG gave the feedback: "We have great content and lots of content. But help me find what's relevant to me!"
So MUFG surveyed their businesses to identify and prioritize the learning that people identified as what was most relevant, then used Saba to build curated workspaces with content and pathways for the hot topics. If we are so successful at connecting learning to the performance and career development needs of their workforce, our people will continue to bang down the door for more!
The best part, in my opinion, is what MUFG has internally branded their Saba solution. They call it LEAP, an acronym for the transformational learning experience they want to deliver to their business:
Learn
Evolve
Aspire
Perform
They are clearly making the learning-performance connection so well that I sweet-talked Brad into being my presentation wingman!
Today's employees have high expectations for their organization's learning management and development programs. Gone are the days of "one-size-fits-all" self-service learning kiosks. MUFG knew that to continue to flourish in a competitive job market, they needed to provide their employees with meaningful learning and development experiences, and ensure they have the skills needed to adapt to a changing business environment.
"Gone are the days of just searching for learning – think of the last time your friends went to a physical library. We've redesigned some of our learning experiences to include curated content collections, which we update throughout the year to anticipate the needs of our people." Brad Beacom, MUFG Union Bank
MUFG is one of many forward-thinking Saba customers that are making waves and positively impacting their people, teams and businesses, just like the three Saba customers who were recognized for their learning achievements by CLO.
Showcasing learning leadership, innovation and business impact at CLO Symposium
Three of our customers stepped into the spotlight on the main stage at CLO in recognition of the ways they have connected personalized, goal-oriented learning experiences with performance outcomes to achieve stellar results for their people, their teams and their businesses. There's no humble in this brag – we're so proud of our customers and what they've been able to accomplish with Saba:
Following your personalized learning journey at USA TODAY NETWORK
CLO recognized USA TODAY NETWORK with a Learning in Practice Award for their design of personalized learning journeys. Some key highlights of their program include: collaborating with employees on development needs, and providing learning coaches and customized learning paths across more than 100 locations. This learning personalization process has yielded tremendous results; with Saba, USA TODAY NETWORK has measured a more than 100 percent improvement in a variety of learning engagement metrics including users, sessions and page views.
Nurturing high performance at Vulcan Inc.
Vulcan Inc. received a Learning in Practice Award for the organization's approach to delivering a one-of-a-kind learning and development (L&D) environment that engages employees every day. With Saba, Vulcan seamlessly aligns personal and team performance goals with the company's corporate objectives to nurture high performance, using a forward-focused development approach. This is in support of their mission and company culture to create a #OnlyAtVulcan work experience.
Get in "The Learning Zone" with Yum! Brands
Yum! Brands, the parent company of KFC, Pizza Hut and Taco Bell, was recognized for creating a modern learning experience for its associates across 45,000 locations in 170 countries. Dubbed "The Learning Zone," Yum! Brands leverages Saba to deliver interactive content, virtual collaboration, social workspaces, as well as gamification and badging, to engage its learners and create a stand-out employer brand for talent development. As a result, Yum! Brands' employee retention rates and restaurant hospitality scores have significantly improved. Plus, employee participation in the company's employee referral program has increased.
We can't say it often enough: Our customers are learning and performance rock stars who consistently demonstrate learning leadership, innovation and business impact with Saba.
The future of learning is evolving – how are you keeping up?
The future of learning has rapidly evolved to the point where the learning experience is inextricably linked to performance outcomes. And as the needs of your business evolve and require different roles and skills, creating and cultivating a culture of learning improves the performance of your people, and creates talent agility for your company.
The learning experience has always been – and will continue to be – personal. Now that's a bright future full of individual journeys and possibilities.