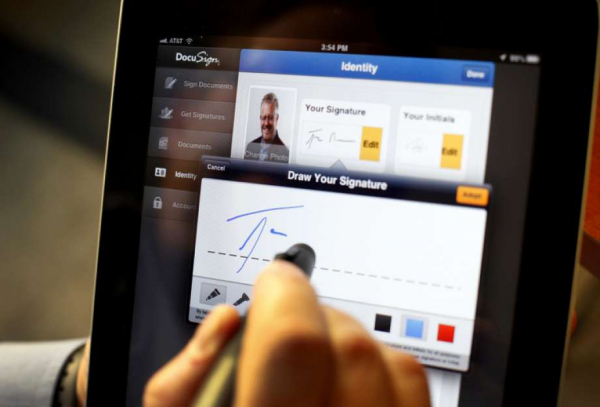 Is eSignature the best digital solution today?

As we keep moving towards the future, we are in immense search for sustainable living standards. It is 2019; every service is becoming digital with ever-growing technological advancements. E-signature is one of the solutions for becoming paperless.
eSignature is a genius digital solution by DocuSign that is making it to headlines.
DocuSign, famously known as an electronic signature industry leader, has made signing legal contracts a lot easier for many small and large businesses, schools, and individuals in general.
Save trees, time & money:
With recent Amazon wildfires, the world's lungs are on fire. We cannot live without them because 20 per cent of the world's oxygen is produced in the Amazon rain-forest. Every step taken to protect the environment counts right now. This sustainable solution reduces paper consumption by saving 66 pounds of wood, 132 gallons of water, $351, and 13 hours by signing 10 signatures electronically, according to DocuSign.
For most of us, 24 hours a day seems less when there is plenty of paperwork piled up. In particular, corporate-level positions where managers, supervisors, and partners have to sign a dozen agreements daily. This is where DocuSign becomes your new best friend. Whether you are on the go, in the office or traveling, you can access your document from DocuSign's application. Furthermore, using DocuSign is flexible and efficient. Ultimately, a lot of time is saved, and productivity is increased.
Electronic signatures can be expensive to execute the agreement processes. DocuSign Pricing plans are affordable with basic plans starting at $10. This basic plan provides numerous useful basic features. However, businesses looking for extra features can opt for Business Pro pricing plan. It costs $40 monthly and $480 annually, which is a good value for its extra features. DocuSign is cost-effective for companies who use a ton of paper as it will reduce printing, legal and storage costs.
DocuSign's user-friendly features:
Security: "Can my signature be misused?" "Is it legal?" are some of the questions often asked by people. The answer is: DocuSign is highly secure. As DocuSign is used for legal agreements, it is implausible that the Digital Signature is misused.
It uses Public Key Infrastructure (PKI) technology and follows global security standards which ensures full security. It also uses digital ID verification process along with encryption which reduces your chances of theft and speeds up the agreement process. The digital signature allows you to sign the document and authenticate the signer as well.
Customize fields & add contacts: This is by far, two of the exciting features of DocuSign which eventually sets DocuSign apart from its competitors in the market. You can use standard fields or create and save custom fields. Custom fields include placement of texts, dropdown menus, and dates or time. Thus, providing good user experience.
DocuSign allows you to manage your contacts by adding and saving their details like name and e-mail. There is a final confirmation screen which shows the name of the recipients the document is being sent to for signature, the name of the document, and the order in which every recipient will sign the document. This makes it easier to obtain signatures from multiple users. In comparison, other e-signature platforms, like Adobe Sign, do not have this tool.
DocuSign's other features include Audit trail, Document Analytics, and Auto reminders, to name a few.
Are you a school or a business looking for a paperless alternative? Try us! Our demos are free, and we never disappoint.